5. Color Blend Nail Design
This amazing nail art is created by combining two primary colors to form a secondary color.Like yellow and red combination would give me orange, similarly you can choose any two colors from red, green, blue and yellow that are the primary colors.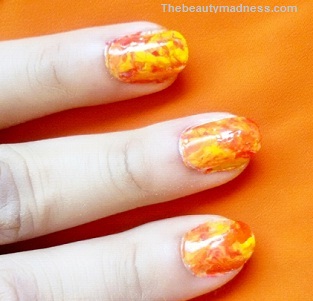 How to do
Things that you need – Red and yellow nail polish, white nail polish for base coat, eraser, plastic plate, cotton bud, nail polish remover and clear nail polish for top coat.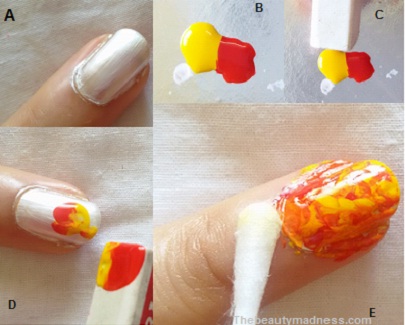 Steps
A.Apply a thin layer of white nail polish as base coat and allow it to dry.
B.Pour two drops of red and yellow nail polish on the plate.Try to keep the colors side by side, do not mix together.
C.Now take an eraser and dip it into the nail polish and gently dab it onto your nails.
D.Repeat the procedure until the entire nail is covered.
E.Once the nail polish dries completely, apply a topcoat for better shine.