9. Gradient Nail Design
This is an absolutely gorgeous nail art technique that is created by stamping two or more nail polish colors with the help of a cotton ball or a sponge.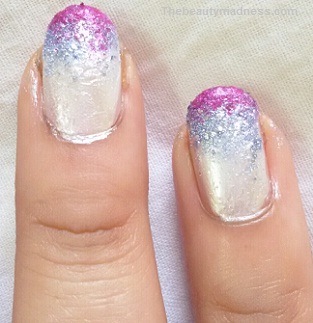 How to do
Things that you need  – Silver base coat, 2 nail polish colors pink and metallic blue, clear top coat, plastic plate, sponge, cotton swab and nail polish remover.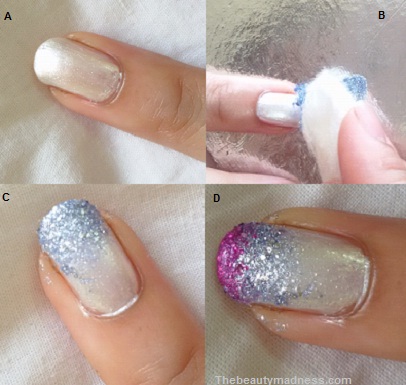 Steps
A.Paint your nails using the silver color and wait till it dries completely.
B.Drop a generous amount of metallic blue color on the plastic plate.
C.Take a cotton ball, dip it into the color and lightly dab it on the upper half of your nail.Repeat the steps until you have achieved the desired effect.
D.Now again pour 2 to 3 drops of pink nail color and using the cotton ball gently dab it on the tip of your nail.
E.Clean up all the excess using a cotton swab dipped in acetone.